Richard Etulain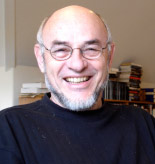 Professor Emeritus
Education:
Ph.D., Institution University of Oregon
Research Interests:
Historiography, Cultural History, Abraham Lincoln
Profile:
As the son of a Spanish Basque immigrant father and a sod house frontier mother, Richard W. Etulain was reared on a sheep ranch in eastern Washington. After public schools in Washington State, he attended Northwest Nazarene College (now University) and graduated with high honors in history and English. He gained a master's and PhD from the University of Oregon, and after teaching at his alma mater and Idaho State University came to the University of New Mexico in 1979. He taught at UNM until 2001, when he took early retirement. While at UNM he edited the New Mexico Historical Review (1979-85) and later directed the Center for the American West (1989-2001).  He lectured abroad in more than ten countries and was a guest professor at UCLA, Washington State University, and the University of Nevada.  He now is retired and lives in the Portland, Oregon area.
Recent/Select Publications:
(Books): Etulain has authored or edited 54 books; a selected list below of the most significant publications:
Conversations with Wallace Stegner, 1983, 1996.
The Twentieth-Century American West: Historical Interpretations. 1989 (coeditor)
The American West: A Twentieth-Century History, 1989 (History Book selection; nominated for a Pulitzer Prize)
Writing Western History: Essays on Major Western Historians, 1991 (editor)
Re-Imagining the Modern American West: A Century of Fiction, History, and Art, 1996     (Caughey Award for Best Book in Western History for 1996)
Researching Western History: Topics in the Twentieth Century, 1997 (coeditor)
By Grit and Grace: Eleven Women Who Made the American West, 1997 (coeditor; first of five volumes in the Notable Westerners series)
Telling Western Stories: From Buffalo Bill to Larry McMurtry, 1999.
New Mexican Lives: Profiles and Historical Stories, 2002 (editor)
Western Lives: A Biographical History of the American West, 2004 (editor)
Beyond the Missouri: The Story of the American West, 2007
Lincoln Looks West: From the Mississippi to the Pacific, 2010 (editor)
Seeking First the Kingdom: Northwest Nazarene University, A Centennial History, 2012.
Abraham Lincoln and Oregon Country Politics in the Civil War Era, 2013
The Life and Legends of Calamity Jane (University of Oklahoma Press, 2014)
Calamity Jane: A Reader's Guide (University of Oklahoma Press, 2015)
Ernest Haycox and the Western (University of Oklahoma Press, 2017)
Presidents Who Shaped the American West (University of Oklahoma Press, coauthored with Glenda Riley, 2018)
Selected publications (essays): Etulain has published more than 100 essays; a selective list follows:
"Origins of the Western," Journal of Popular Culture 6 (spring 1972): 799-805.
"Research Opportunities in Western Literary History," Western Historical Quarterly 4   (July 1973): 263-72.
"Basque Beginnings in the Pacific Northwest," Idaho Yesterdays 18 (spring 1974): 26-32.
"The American Literary West and Its Interpreters: The Rise of a New Historiography." Pacific Historical Review 45 (August 1976): 311-48.  (Winner of the Louis Knott Koontz Award for the best essay published in the PHR in 1976 and the Western History Association's prize for the best essay in western history during 1976)
"Shifting Interpretations of Western American Cultural History," in Michael P. Malone, ed. Historians and the American West, 1983, 414-32.
"The Twentieth-Century West: A New Historiographical Frontier," in Gerald D. Nash and Richard W. Etulain, eds. The Twentieth-Century West, 1989, 1-31.
"Introduction," "After Turner…," and "Conclusion," in Etulain, Writing Western History, 1-16, 137-65, 335-58.
"Research Opportunities in Western Cultural History," in Nash and Etulain, Researching Western History, 147-66.
"Inventing the Pacific Northwest: Novelists and the Region's History," in Paul Hirt, ed, Terra Pacifica, 1998, 25-52.
"Western Stories for the Next Generation," Western Historical Quarterly 31 (spring 2000): 5-25; Presidential address for Western History Association.
"Calamity Jane: The Making of a Frontier Legend," in Glenda Riley and Etulain, Wild Women in the Old West, 2003, 177-95, 209-11.
"Telling Lewis and Clark Stories: Historical Novelists as Storytellers," South Dakota History 34 (spring 2004): 62-84; article of the year, South Dakota History, 2004.
"Abraham Lincoln: Political Founding Father of the American West," Montana: The Magazine of Western History (summer 2009): 3-22.
"Western Biographies in Transition," Western Historical Quarterly 42 (autumn 2011): 349-54.
"Mary Lincoln among the Novelists: Fictional Interpretations of the First Lady," in Frank Williams and Michael Burkhimer, eds. The Mary Lincoln Enigma, 2012, 281-304.
"Clio's Disciples on the Rio Grande: Western History at the University of New Mexico," New Mexico Historical Review 87 (summer 2012): 277-98.
"Ferenc M. Szasz: Paso Por Aqui." New Mexico Historical Review  85 (fall 2010): 431-36.
"Lincoln and the Oregon Country," Lincoln Lore 1899 (spring 2012): 12-20.
"Shifting Currents: Cultural Expressions in Idaho," in Adam M. Sowards, ed. Idaho's Place (Seattle: University of Washington Press, 2014), 238-59.
"Historiography on Lincoln and Religion," in Ferenc Morton Szasz, with Margaret Connell Szasz (Carbondale: Southern Illinois University Press, 2014), 73-83.
"Calamity Jane: A Life and Legends," Montana: The Magazine of Western History 64 (summer 2014):21-45.
"Anson G. Henry: Abraham Lincoln's Political Doctor in the Oregon Country." Columbia 28 (fall 2014): 21-26.
"Mary Lincoln and the Lincoln Assassination: Grief Unbounded," in Frank J. Williams and Michael Burkhimer, eds.
 The Lincoln Assassination Riddle: Revisiting the Crime of the Nineteenth Century  (Kent, OH: Kent State University Press, 2016), 125-36.
"H. G. Merriam and the Search for a Pacific Northwest Regional Literature," Pacific Northwest Quarterly 107 (summer 2016): 107-19.
"Frederic Homer Balch (1861-1891): Romancer and Historian," Oregon Historical Quarterly 117 (winter 2016): 604-35.
"Billy the Kid among the Dime Novelists," Outlaw Gazette 30 (2017): 6-9.

Series Editor

Oklahoma Western Biographies, 1988--, 30 volumes
The American West, 2003--, 2 volumes
Concise Lincoln Library, 2011--, 22 volumes
Awards:
NHPC Fellow, 1969-70
NEH fellowship to study the Basques, 1973-74
USIA Agency lecturer in more than 10 foreign countries
Board of Editors on several journals
Calvin Horn lecturer, 1998
Richard Etulain lecture in Western Regional Cultures, UNM, 2002—