History Graduate Programs at UNM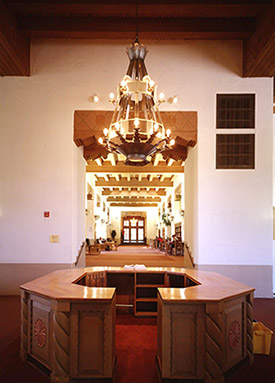 The history graduate program at UNM is a nationally-recognized program that offers the Masters and Doctoral Degrees, and has a strong record of placing graduates in positions in academia, in the public history arena, and in other professional venues. The department's special strengths in the history of Latin America and the American West complement its strengths in the history of the United States and medieval and modern Europe. Working closely with faculty members and fellow graduate students, MA and PhD students develop the background, skills, and insights to make significant contributions to the realm of historical scholarship. UNM graduate students are also able to gain valuable teaching experience, as well as financial support, from a generous array of classroom assistantships; they have also been successful in obtaining external grants for research and other scholarly activities. Students pursuing an MA concentrate in a primary field of history and have the option of writing a thesis based on original research, or else preparing a secondary field of concentration. Doctoral students concentrate in two fields -- one regional and one thematic in orientation -- before taking a qualifying examination and proceeding with dissertation research.
Graduate policies and forms are available in the Handbook of Graduate Studies, or they can be accessed individually on the Resources page of the department website.
Information on graduate study at UNM may be obtained through the Office of Graduate Studies and the History Graduate Students Association (HGSA). Students wishing to enroll for non-degree graduate coursework prior to admission for graduate study in History should consult the department's policy on Graduate Non-Degree Coursework and contact UNM's Non-Degree Student Services.
View the details on the B.A./M.A. Shared-Credit Degree Program in History.