Welcome to the Department of History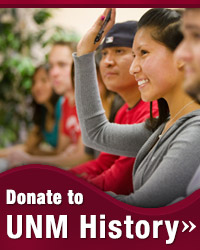 The Department of History at the University of New Mexico is a vibrant community of scholars, teachers, and students located in the center of the American Southwest.
 Our scholarly reputation rests on the intellectual achievements of our faculty, which includes numerous historians who have won book and article prizes, appeared in documentaries, been featured on television and radio programs, and contributed articles to journals, newspapers, and magazines across the nation and around the world. Our scholarship and teaching interests range from medieval Europe to early modern Central and South Asia to modern Europe and the United States to the Indigenous Americas. We have long excelled in such areas as the American West, Latin America, Iberia and medieval Europe, and have developed more recent specializations in women and gender, science and medicine, and borderlands and transnationalism.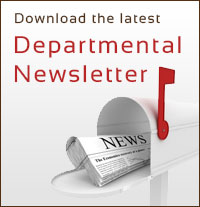 Innovative undergraduate and graduate teaching is at the heart of the department's work.  Our faculty teach incoming freshmen in core curriculum courses, mentor history majors in seminars and our honors program, and prepare MA students and PhD candidates to bring their original research to fruition.
---
Fall 2021 Featured Courses 
HIST 2256-001: Modern Eastern Civ
RAY, SHATAM | MWF 10:00-10:50 | CRN 70695
For most of its history, Asian civilizations were both a source of fascination as well as knowledge-production in the world. The rise of complex political and social assemblages in different parts of Asia allowed different streams of philosophy, religion and science to merge with each other seamlessly and contribute a cosmopolitan and advanced cultural patterns. And yet by the seventeenth century, it was Northern and parts of Western Europe that surged ahead in building an imperial geography; a development so sudden and unanticipated that most scholars and contemporary observers were puzzled by it. This course intends to familiarize students with the history of many Asian societies – big and small – to trace the developments that shaped the idea of the Orient.
Bookended between earliest history to the eventual colonization of eastern and southeastern Asia towards the eighteenth century, students will learn about highly mobile and transient ecologies and knowledge systems that eventually gave way to national identities across Asia. With a specific focus on China, Japan, and Korean history and the role of Islam, trade and migration in these histories, this course focus on how civilizations developed networks of knowledge and communication and yielded to a distinct Asian identity. How did these knowledge systems become source of cultural identity, military expansion and national belonging? Through a broad sweep of time in history, students will also come to critically evaluate the idea of 'greatness' and the cultural connotations associated with 'eastern people' over the course of the semester.
HIST 300-002: Chile: Constitutions and Social Change in the 20th Century
HUTCHISON | MWF 10:00-10:50 | CRN 55945
In October 2020, following over a year of street protests and under pandemic conditions, Chileans went to the polls and voted overwhelmingly to rewrite the country's entire Constitution, and to do so though a constitutional convention made up of representatives directly elected by the Chilean people. This new Constitution – subject to approval no later than August 2022 – will replace the entire 1980 Constitution, a document created by the military regime of Augusto Pinochet that protects key aspects of the country's economic system and limits the influence of the Left in national politics. While writing a new constitution would be a significant change anywhere, in the Chilean case this process will ground zero for efforts to turn back – and for some, to preserve – the social, political and economic transformations implemented by Chile's 17-year dictatorship (1973-1990), as well as a measure of the political influence of Chile's new generation of social movements for indigenous, women's, sexuality, environmental, and workers' rights. 
This course will examine the constitutional assembly debates and preliminary results in real time, as the Constitutional Assembly unfolds over the Chilean spring (our fall!) of 2021. Drawing on the expertise of Latin American scholars and activists – some of whom will join our class sessions via Zoom – the course will examine the Chilean constitutional process, and the relationship of constitutions to social change, through an historical lens. Noted for an "exceptional" level of political stability since the nation's founding in 1824, Chile has nevertheless experienced repeated civil wars, military intervention, and the systematic political exclusion and repression of women, working-class, indigenous, and other populations, a history of violence and inequality that belie the myths of Chilean exceptionalism and social peace. Focusing on constitutional nodal points in this history – the Constitutions of 1833, 1925, 1980 – this course will allow students to explore what is new, and not so new, about the current constitutional process, and consider the implications of the new Constitution for democracy and social equality for Chile and the region.
HIST 300-004: T: Environments and Diseases
RAY, SHATAM | MW 2:00-3:15 | CRN 70691
The global spread of Covid-19 and the crippling impact of this affliction on the daily lives of millions has made us even more acutely aware of the entangled lives that we lead.  Using the present conjuncture as its point of departure this course is concerned with the material and ideological construction of environment in modern history. In other words, how have people developed their ideas about nature in the last three hundred years and what has been the impact of this way of viewing environment in the lived realities of different societies. A second component of this course is familiarizing students with contemporary social movements and philosophical trends attached to environmental conservation and their relationship with non-human actors. Relying on broader theoretical approaches to the subject of environment sciences and philosophy as well as case-studies from specific countries, this course unpacks the way in which we see our environment and the assumptions and conditionings that undergird this act of seeing. Instances will include spread of disease, infrastructures of development AND conservation, role of animal, plants and insects in shaping colonialism and prominent trends in thinking about society and nature. Using historical documents, visual representations, and cultural artefact, the course also tries to develop a model of thinking about environmental co-habitation in vulnerable, local ecologies of New Mexico itself. 
History 337: 20th century America since 1945
Jefferson, Robert | TR 8:00-9:15 | CRN 70551 
Adopting a thematic and topical approach, this course examines the recent events from the end of World War II to the present with an emphasis on Atomic Age; Cold War politics and culture; reform movements and the politics of change (Civil Rights, the War on Poverty and the Great Society, the New Left, Feminism, Environmentalism, and Neo-Conservatism); War and Society; and the era of globalization and the emerging neo-isolationism of the late twentieth century.  Through a close examination of a wide range of texts including graphic histories, films, music, novels, and primary material, the course seeks to help students develop analytical skills that will allow them to engage American history as a way of gaining a greater sense of how and why we are the way we are and what we have become today.
HIST 347-001: Native America, 1850-1940
CONNELL-SZASZ | TR 11:00-12:15 | CRN 69623
Moving from war-to-war - Civil War to World War II - this course assesses a difficult era of Native American history. Relying extensively on primary sources, we will attempt to understand multiple traumatic events that alternate between removals and warfare, boarding schools and allotment. If we listen to Native voices, we may gain some comprehension of how Native people dealt with drastic choices, whether they were stuck in boarding schools or protesting allotment strategies. Once we turn to the twentieth century, we will observe the rise of pan-Indianism and vocal individual voices, such as the anti-BIA stance of Carlos Montezuma, and the strident controversies of the so-called "Indian New Deal," which lurched ahead with some significant reform measures, while alienating tribal peoples with others. This traumatic era culminates with World War II, a witness to dramatic change in Indian Country that leads Native America into the Red Power era of the sixties. [The course that follows H347 begins with the role of Natives in the war]
HIST 396-003: T: Black Migration Studies in United States History
JEFFERSON | TR 2:00-3:15 | CRN 69629
Focusing primarily on critical aspects of routes and roots, movement and place, this course examines the making of African America through the mass migration of black people from 1619 through the beginning of the Twenty-first century. Challenging traditional interpretations of linear, progressive history from slavery to freedom, we will explore the historical migrations of people of African descent through language, religion, food, and the arts and how the intersection of different cultures and generations remade the African-centered dimensions of African immigrants and the American-ness of their American born descendants.
HIST 397-001: Early Andes
GAUDERMAN | TR 11:00-12:15 | CRN 66566
"There is only one world, and although we speak of the Old World and the New, this is because the latter was lately discovered by us, and not because there are two." - Garcilaso de la Vega, El Inca
With this statement, the famous mestizo chronicler Garcilaso de la Vega claims a difficult allegiance to the cultures of his Spanish conquistador father and to his noble Inka mother. Indeed, the transformation from sophisticated native civilizations to complex multi-racial societies was dramatic and violent, but also gradual and complex. This course examines the history of Spanish South America up to the region's independence in the 1820s. The course provides an introduction to ancient indigenous cultures of the region, the empire of the Inka, and examines the region's political, economic, and social development under Spanish authority. Students will read, analyze, and discuss both primary and secondary sources to understand the political and social roles that race, class, and gender have played in South America.
HIST 421-001: Modern Britain, 1650-Present
RICHARDSON | MWF 11:00-11:50 | CRN 69632
It is easy to dismiss modern Britain. It can seem a museum piece, where Cockney bobbies and septuagenarian women detectives toast the queen while sipping warm beer on the village green. Or it can appear a cautionary tale of how a great power can wither into irrelevance, rich now only in bad weather, bad food and bad teeth. But it is remarkable how influential these small islands on the outskirts of Europe have been and continue to be. From the birth of imperialism to the industrial revolution to the war on terror to the rise of populism, Britain has been at the center of most of the important historical events of the last four centuries. A study of its history sheds light on many of the issues that shaped the modern era, including questions of how to balance progress and stability, assimilation and diversity, liberty and security, and nationalism and internationalism. This course will challenge stereotypical notions of modern Britain, by including a variety of perspectives and by focusing on how Britain's history illuminates broader themes. The story of modern Britain is a story of tories and revolutionaries, of angels in the home and suffragists in the streets, of powdered wigs and day-glo mohawks. And it is a story that is enormously relevant to the way we live now.
HIST 464-001: US-Mexico Borderlands
TRUETT | TR 3:30-4:45 | CRN 69635
In this class, we will explore the histories of the American Southwest and Mexican North from a transnational perspective. We will start by examining the colonial legacy of the American Southwest and Mexican North, when both regions were part of New Spain's far northern frontier. We will then explore how this frontier was transformed into a borderlands between nations—a place divided by national boundaries, and connected by transnational pathways of migration, culture, and economic development. Discussions will move chronologically through the nineteenth and twentieth centuries, but will take thematic detours to examine such issues as imperialism and exploration, Apache Indians and "bandits," the romantic Southwest, popular rebellions, mining and other forms of capitalist development, immigration, labor conflicts, Yaqui Indians and their resistance to Mexican and American conquest, the Mexican Revolution, the rise of a new multicultural borderlands in the twentieth century, and the future of the borderlands in a new global age.
GAUDERMAN | TR 3:30-4:45 | CRN 60517
HIST 492-001: Immigrants and Refugees in the US
This undergraduate seminar seeks to provide a historical context to current debates over immigration reform, integration, and citizenship in the context of Latin American and the U.S. Many in the U.S. have a romanticized idea of the nation's immigrant past. In fact, U.S. immigration history is more contested, more nuanced, and more complicated than many assume. Anti-immigrant rhetoric and immigrant surveillance, detention, and deportation have been defining features of U.S. politics and state and federal policy since the 19th century. Drawing on the experience of the professor as an expert witness on country conditions in Latin America, this seminar will explore the impact of U.S. immigration and asylum law on Latin American refugees who are fleeing persecution because of gender, sexual, and gang violence.
This class is primarily structured to introduce advanced undergraduates to the sources, methodologies, and theoretical approaches that shape historical and modern interpretations of immigration and asylum in the U.S. Students will read recent scholarship, as well as primary documents including reports by governments and NGOs, personal accounts, and the press. The seminar will also include guest presentations by legal professionals who practice immigration and asylum law. Students will produce an original research project based on a topic of their choice related to themes in the seminar.
---
Our undergraduate majors find careers as everything from entrepreneurs and teachers to journalists and park rangers, and often go on to professional schools in law, business, medicine, and public policy. Our graduate students have become professors, publishers, civil servants, and public historians.
The Department of History is an anchor of humanities and interdisciplinary research at UNM, and maintains close affiliations with various programs and organizations representing a wide range of interests across campus. For example, theNew Mexico Historical Review publishes a quarterly academic journal focused on the peoples and cultures of the state and its region. The Center for the Southwest organizes public conferences, film presentations, and lecture series. Members of our faculty direct or participate in the Latin American and Iberian Institute, the Institute for Medieval Studies, the International Studies Institute, the Southwest Hispanic Research Institute, and the Center for Regional Studies at UNM—interdisciplinary academic programs that educate students and the general public and bring leading thinkers to UNM from across the country and throughout the world.
We invite you to explore our website and click on our affiliate links for information about becoming a history major, honors student, or graduate student, as well as notices for upcoming symposia, colloquia, lectures, and film series. And please do visit the Department of History anytime. We are located in Room 1104 of Mesa Vista Hall.