Michael Ryan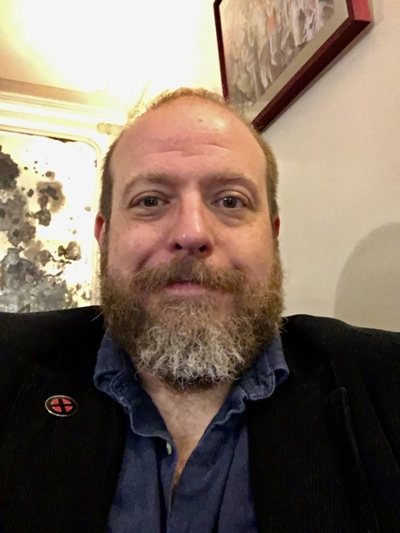 Associate Professor
Director, Institute for Medieval Studies
Email: ryan6@unm.edu
Office: Mesa Vista 2058
Education:
B.A., History, with high honors, University of Florida, 1995
M.A., History, Western Michigan University, 1998
Ph.D., History, University of Minnesota--Twin Cities, 2005
Research Interests:
Medieval History, Early Modern History
Research Statement:
Social, cultural, intellectual history of the medieval and early modern Mediterranean, particularly Spain and Italy; Medieval and early modern apocalypticsim and the occult; Medieval and early modern gender and sexuality
Profile:
Professor Ryan joined the faculty of the University of New Mexico in Fall 2011, after teaching at Purdue University. He offers a variety of undergraduate and graduate courses on the medieval and early modern social, cultural, and intellectual history of the Iberian Peninsula and Mediterranean Basin. His research and teaching foci include the intersection of magic, science, and religion in the premodern world, apocalyptic expectations and apprehensions in premodern society, medieval relations between Christians, Muslims, and Jews, and gender and sexuality. He is currently working on a new monograph that investigates charlatanry and magical-themed fraud in the later Middle Ages.
Recent/Select Publications:
A Kingdom of Stargazers: Astrology and Authority in the Late Medieval Crown of Aragon (Ithaca, NY: Cornell University Press, 2011)
 Co-editor, with Dr. Karolyn Kinane (Plymouth State University--English), End of Days: Essays on the Apocalypse from Antiquity to Modernity (Jefferson, NC: McFarland Press, 2009)
 "The Horn and the Relic: Mapping the Contours of Authority and Orthodoxy in the Late Medieval Crown of Aragon," Preternature: Critical and Historical Studies on the Preternatural 1:1 (2012): 49-71
 "A Note on Magical Deception," Magic, Ritual, and Witchcraft 6:3 (Summer 2010): 52-57
 "Teaching Ingmar Bergman's The Seventh Seal," The Once and Future Classroom 9:1 (Spring 2011)
Awards:
Spring 2012: Recipient of H. P. Krause Fellowship in Early Books and Manuscripts to conduct research at Yale University's Beinecke Rare Book and Manuscript Library
Spring 2010: Participant in NEH Summer Institute for College and University Teachers in Barcelona on "Cultural Hybridities: Christians, Muslims, and Jews in the Medieval Mediterranean"
Courses:
Western Civilization
High Middle Ages
Medieval Modern Apocalypse
Early Middle Ages
Pre-Modern Mediterranean
Dissertation and Professionalization