Margaret Connell-Szasz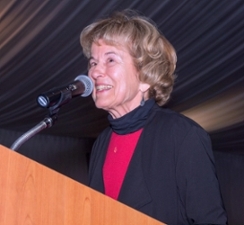 Education:
B.A. in Advanced Writing, University of Washington
M.A. in History, University of Washington
Ph.D. in History, University of New Mexico, 1972
Research Interests:
American Indian/Alaskan Native/ Native Hawaiian, Celtic History post 1700, Comparative Indigenous History, History of Scotland
Research Statement:
Margaret Connell-Szasz researches and writes in the following fields: American Indian and Comparative Indigenous History, with a focus on education; Cultural Intermediaries; and Modern History of Scotland, Ireland, Wales, and Native America.
Profile:
Recent President of the Western History Association, Dr Connell-Szasz is a student of Native American History, Comparative Native American and Celtic History, Comparative Indigenous History, and US History.  A Research Fellow at the School of Divinity, History and Philosophy, University of Aberdeen, Scotland, she has taught Scottish, English and American students at universities in England and Scotland.  At UNM she has advised dozens of MA and PhD students who have found positions at colleges, universities, and in public history across the US.  Her publications include Scottish Highlanders and Native Americans: Indigenous Education in the Eighteenth-Century Atlantic World; Education and the American Indian: The Road to Self-Determination; Abraham Lincoln and Religion (co-authored with Ferenc Morton Szasz) and Between Indian and White Worlds: The Cultural Broker.  Projects underway: "Nations on the Move: Scotland, Ireland, Wales, and Native American Nations, Post-1960 (waiting readers' reports) and a history of the Scottish Gaelic College, Sabhal Mòr Ostaig, within the context of the international indigenous college movement.  Co-editor of the series "Indigenous Education," under the auspices of the University of Nebraska Press, she is also on the editorial boards of Montana: The Magazine of Western History, and Northern Scotland. 
Recent/Select Publications:
Education and the American Indian, The Road to Self-Determination Since 1928 (1999)
Between Indian and White Worlds: The Cultural Brokers (2001)
Scottish Highlanders and Native Americans: Indigenous Education in the Eighteenth-Century Atlantic World (2007)
Abraham Lincoln and Religion ( Ferenc M Szasz with M Connell-Szasz) (2014)
Awards:
President, Western History Association, 2013-2014
College of Arts and Sciences Regents Professor, effective 2012
William Shoemaker Endowment in History Grant, 2008, 2012, 2016-2017
William H and Marjory Bell Chambers Endowed Award for Excellence in History, 2016
UNM College of Arts and Sciences Award for Teaching Excellence, 2008-2009
Fulbright Specialist, 2008-2013
Western History Association Honorary Life Membership Award, 2004
UNM Research Allocations Committee, Research in Scotland Summer Grant, 2003
American Indian History Appreciation Award [Western History Association], 2000
Seminar Fellow, D'Arcy McNickle Center, Newberry Library, Chicago, 1994; Dine College, 1996
College of Arts and Sciences Regents Lecturer, 1990-1993
Scholar, Task Force on Indian Nations at Risk, US Dept of Education, 1990-1991
First recipient of Snead-Wertheim Endowed Lectureship in Anthropology & History, 1989-1990
Vivian Paladin award for best article in Montana, the Magazine of Western History, (twice)
Courses:
           Two semester sequence of US History:
                Pre- and Post-1877
American West

American Indians in the Twentieth, Early Twenty-First century

Comparative Indigenous History

Celtic and Native American History, post-1700
            Three semester sequence on Native American History:
               Pre-1850; 1850-1940; 1940 to the Present
             Graduate Seminars: 
Native American History

Twentieth-Twenty-First Century Native America

Global First Peoples