Caleb Richardson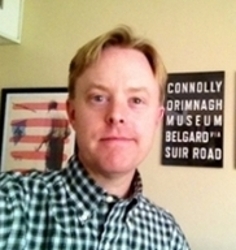 Associate Professor
Associate Chair
Email: CWR@unm.edu
Phone: (505) 277-5344
Office: Mesa Vista 1109
Education:
Ph.D., Stanford University
Research Interests:
Modern British and Irish Cultural History, The Irish "Diaspora", War and Society, Class, Empire, Politics and Economics, Race and Ethnicity, Frontiers and Borderlands
Profile:
Caleb Richardson received his Ph.D. from Stanford University.  He is revising his manuscript, "Neutral Combatants: Irishness and the Second World War," for publication.  His work has appeared in New Hibernia Review/ Iris Éire-Ireland, Siar and Stanford Magazine, and he regularly presents at conferences on Irish and British history and to various local and community groups.  His current research focuses on two subjects: first, the attempted invasions of Canada in the late 1860's by the Irish-American nationalist group known as the Fenians, and, second, the fate of the people known to everyone except themselves as the "Anglo-Irish" after Irish independence.  His teaching interests center on modern, medieval and early modern Irish and British history, historiography, the history of "Diaspora," the history of class, and Western Civilization.  He is the Honors Advisor for the History Department, the Secretary-Treasurer of the American Conference on Irish Studies-West, the faculty sponsor of the Historical Society of UNM, an undergraduate history interest group, and the directory fo the UNM History Department Colloquium.
Recent/Select Publications:
"Chapter 6: The Prison Camp as Public School," in Middlebrow Wodehouse, ed. Ann Rea. (forthcoming.)
 "Chapter 9: Ireland, Politics and Economics," in Nations on the Move: Scotland, Ireland, Wales and North America Since 1960, ed. Margaret Connell-Szasz. (forthcoming.)
 "Damien Dempsey and the Celtic Tiger," Siar: The Journal of the Western Conference on Irish Studies, Vol. 3, No. 1, (2009,) pp. 25-36.
 "Transforming Anglo-Ireland: R.M. Smyllie and the Irish Times," New Hibernia Review/Iris Éireannach Nua, Vol. 11, No. 4, (Winter 2007,) pp. 17-36.
 "'They are not worthy of themselves': The Tailor and Ansty Debates of 1942," Éire-Ireland, Vol. 42, Nos. 3-4, (Fall/Winter 2007,) pp. 148-172.
 "Talk Amongst Yourselves," Stanford Magazine (May/June 2005.)
Courses:
Inventing Modern Ireland
The Irish Diaspora
Western Civilization
World War II
Modern Britain
Historiography
Britain 1600-Present
History of England 1066-1660