Shannon Withycombe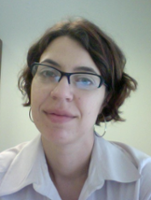 Education:
Ph.D. University of Wisconsin-Madison
Research Interests:
History of Medicine , Gender and Sexuality, History of the Body, History of Reproduction, History of Women's Health, U.S. Public Health
Profile:
Shannon Withycombe is a historian of medicine who works on nineteenth-century women's health. She is particularly interested in bodies and identities and how the two are constructed in thinking about reproduction and medicine. Courses she has taught include: Women and Health in US History, The History of Reproduction, The History of Contagion, Sciences of the Western Body, and The Physician in History. Her recently published book traces the meaning of miscarriage in nineteenth-century America. Placing women's personal writings about pregnancy loss alongside physicians' publications on the topic,the book investigates the transformative changes in how Americans conceptualized pregnancy, medical authority, fetal tissues, and women's reproductive destinies. Withycombe's second book project will explore the development of prenatal health care in early 20th century America.
Recent/Select Publications:
Lost: Miscarriage in Nineteenth-Century America (New Brunswick: Rutgers University Press, 2018)
"Unusual Frontal Developments: Negotiating the Pregnant Body in Nineteenth-Century America,"Journal of Women's History 27, no. 4 (Winter 2015).
"Happy Miscarriages: An Emotional History of Pregnancy Loss," Nursing Clio, November, 2015.
"From Women's Expectations to Scientific Specimens: The Fate of Miscarriage Materials in Nineteenth-Century America," Social History of Medicine 28, no. 2 (2015): 245-262.
"Pregnancy, Fear, and Conformity," Nursing Clio, June, 2015.
Courses:
Women and Health in US History
History of Reproduction 
History of Modern Medicine 
Health and Disease in the Southwest
United States of Germs
Medicine and Popular Culture