LM Garcia y Griego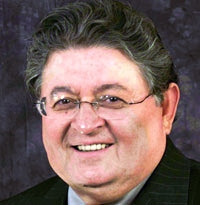 Education:
A.B. History, Princeton University
M.A. Demography, El Colegio de Mexico
Ph.D. History, University of California, Los Angeles
Research Interests:
American West, Modern Mexico, U.S. Latino Population
Research Statement:
Dr. García's current research focuses on land grants in New Mexico since 1848, New Mexico geneologies, and  Mexican migration to the United States.
Profile:
Dr. García y Griego teaches courses on Post-revolutionary Mexico, New Mexico history since 1848, U.S. Politics since 1787, and international migration and U.S. policy since 1820. His research is multidisciplinary, and includes the fields of Latin American Studies, Chicano/a Studies, demography, ethnic politics, and public policy. A native of New Mexico, Dr. García has taught at El Colegio de México (Centro de Estudios Internacionales), the University of California, Irvine (Department of Politics and Society), and directed the Center for Mexican American Studies (CMAS) at the University of Texas at Arlington. At UNM he directs the Southwest Hispanic Research Institute (SHRI) and is a member of the Latin American and Iberian Instititue (LAII). Dr. García also is a member of the Board of Trustees of the Cañon de Carnué Land Grant, founded in 1763.
Recent/Select Publications:
Recent publications include:
(co-authored with Roberto R. Calderón), Más allá del río Bravo: breve historia mexicana del norte de Texas. Mexico City:  Secretaría de Relaciones Exteriores, Dirección General del Acervo Histórico Diplomático, 2013. 196 pp.

"Beating around the bush: symbolism and substance in contemporary immigration policy," in Latino immigration policy: context, issues, alternatives; papers presented at the New York Latino Research and Resources Network Conference on Latino Immigration Policy, edited by José E. Cruz (Albany, NY: New York Latino Research and Resources Network (NYLARNet), University at Albany, State University of New York, in press, 2007.

"Dos tesis sobre seis décadas: la emigración a Estados Unidos y la política exterior mexicana," En busca de una nación soberana: relaciones internacionales de México, siglos XIX y XX, edited by Jorge A. Schiavón, Daniela Spenser, and María Vázquez Olivera (Mexico City: CIDE and SRE, 2006), pp. 551-580.

(with Dennis D. Cordell), "Discriminación e integración: la experiencia de inmigrantes mexicanos y nigerianos en el norte de Texas (2001-2005), in Hispanos en Estados Unidos, inmigrantes en España: ¿amenaza o nueva civilización?, edited by Tomás Calvo Buezas (Madrid: Los Libros de Catarata, 2006), pp. 117-143.
Courses:
Post-Revolutionary Mexico
New Mexico since 184
U.S. Immigration and Policy since 1820
Immigration and Assimilation
Political History of the US
Latina Political Economy