Luis Herrán Ávila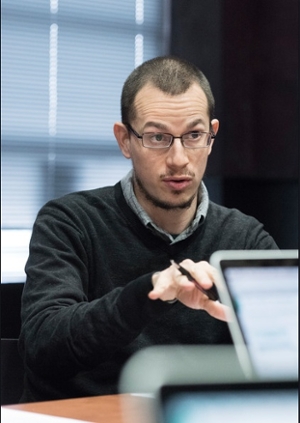 Education:
B.A. Latin American Studies, National Autonomous University of Mexico
M.A. Politics, The New School for Social Research
PhD Politics and Historical Studies, The New School for Social Research
Research Interests:
Modern Latin American History (esp. Mexico, Argentina, Colombia), Cold War, Anticommunism,  Right Wing Movements, political and intellectual history, revolutionary and counterrevolutionary violence, enmity and conflict
Profile:
Dr. Herrán Ávila is a historian of the Cold War in Latin America, with an emphasis on conservative, anticommunist, and extreme right movements. After researching the comparative history of anticommunism in Mexico, Argentina, and Colombia, his current book project seeks to unveil the national and Latin American dimensions of right wing activism in Cold War Mexico. The book project examines the history and Cold War transformations of right wing dissidence to the Mexican postrevolutionary state, and situates Mexico as a crucial hub for transnational anticommunist activism, shedding light on the various ways in which Mexican anticommunists forged links with Latin American, European, and East Asian fellow travelers. Dr. Herrán Ávila's publications in both English and Spanish reflect a range of related research interests, such as right wing youth; neofascism in Latin America; the history of political crime in the Americas; and the intersections between banditry and insurgency. He has also been a recipient of various scholarships and grants from Fulbright, Mexico's National Council for Science and Technology, the New School for Social Research, and the Hoover Institution, and a contributor to the Mexican dailies Reforma and El Norte.
Recent/Select Publications:
"The Other 'New Man'": Conservative Nationalism and Right Wing Youth in 1970s Monterrey." In Jaime Pensado and Enrique C. Ochoa, México Beyond 1968: Revolutionaries, Radicals, and Repression During the Global Sixties and Subversive Seventies (Tucson: University of Arizona Press, 2018), 195-214
"Rebels, Outlaws and Enemies: The Criminalization of Dissent in Colombia and Mexico." In David Carey and Gema Santamaria (eds.), Violence and Crime in Latin America (Norman: University of Oklahoma Press, 2017), 159-175.
"Las Guerrillas Blancas: Anticomunismo Transnacional e Imaginarios de Derechas en Argentina y México, 1954-1972" Quinto Sol (National University of La Pampa, Argentina), Vol. 19, Nº 1, January April, 2015: 1-26
Awards:
Hoover Institution, Library and Archives Resarch Grant, 2018
Global Scholars and Diversity Grant, Society of Historians of American Foreign Relations, 2015
Janey Program in Latin American Studies Summer Research Fellowship, The New School for Social Research, 2010-2012, 2014-2015
Frank Altschul Dissertation Fellowship, Department of Politics, The New School for Social Research, 2013
National Council for Science and Technology (CONACYT, Mexico) Scholarship, 2007-2012
Fulbright – García Robles Scholarship, 2006-2008
Courses:
Introduction to Latin American Society II: Humanities
Modern Latin America
Postrevolutionary Mexico: Power and Protest
Seminar: Latin America and the Global Cold War (graduate)