Charles McClelland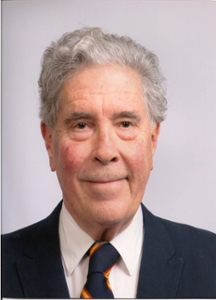 Professor Emeritus
Email: cemcc@unm.edu
Office: Institute for the Medical Humanities/University of Texas (Medical Branch)
Education:
Ph.D. Yale University
Research Statement:
Modern (18th-21st century) learned professions and professionalization; history of higher education; social history of educated elites; international cultural transfer; medical science and education; museum design.
Profile:
Professor Emeritus Charles E. McClelland (b. Texas 1940) is currently Associate Faculty Member of the Institute for the Medical Humanities, University of Texas (Medical Branch), Galveston, where he was an invited Visiting Scholar 2010-11. He studied at Princeton, Munich and Yale (PhD '67) and taught at Princeton and the University of Pennsylvania before coming to UNM in 1974.  He was Director of the European Studies Program at UNM for many years and served as president of the UNM and New Mexico AAUP. He retired (early) in 1997 to work as an Alexander-von-Humboldt Fellow and Fulbright Fellow  in Germany, designing and writing part of a multivolume bicentennial history of the University of Berlin. He has also been a Fellow of the National Endowment for the Humanities, the Princeton Institute for Advanced Study and the Zenrtum für Inderdisziplinäre Forschung in Germany. He is the author of six major monographs, contributing editor of three further books as well as author of two dozen scholarly articles about modern Central European social, intellectual and university history as well as of the modern learned professions. 
Recent/Select Publications:
BERLIN, THE MOTHER OF ALL RESEARCH UNIVERSITIES: 1860–1918 (Lanham, MD: Rowman and Littlefield, 2016).
THE QUEEN OF THE PROFESSIONS:  THE RISE AND DECLINE OF MEDICAL PRESTIGE IN AMERICA (Lanham, MD, 2014)
H. E. Tenorth (ed.), GESCHICHTE DER UNIVERSITÄT UNTER DEN LINDEN, 1810 – 2010 [History of Berlin University], 6 vols. (Berlin, 2010-13), vol. I
PROPHETS, PAUPERS, OR PROFESSIONALS? A SOCIAL HISTORY OF EVERYDAY VISUAL ARTISTS IN MODERN GERMANY, 1850-PRESENT (Oxford, 2004)
PROFESSIONS IN MODERN EASTERN EUROPE/PROFESSIONEN IM MODERNEN OSTEUROPA (Berlin, 1995)
STATE, SOCIETY AND UNIVERSITY IN GERMANY, 1700-1914 (Cambridge, 1980)
Recent articles/chapters include  "Mas allá de Krause: Julián Sanz del Río en Heidelberg y la subcultura académica en la nueva Universidad de Madrid"  in J. Correa Ballester (ed.), MATRÍCULA Y LECCIONES (Valencia,  2012), Vol.  II and "The German University and Its Influence," OXFORD HANDBOOK OF THE HISTORY OF EDUCATION (forthcoming 2016).
Awards:
Snead-Wertheim Distinguished Lecturer in History and Anthropology